Listen: download the mp3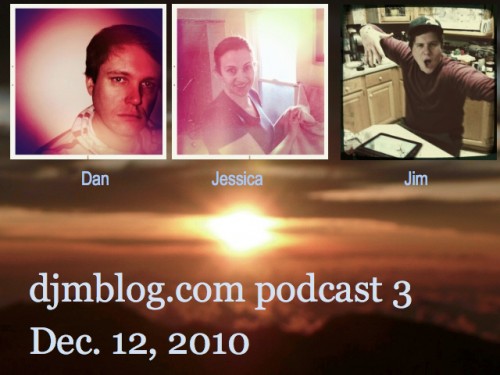 guest hosts: Jessica (@JessicaMcKeown) and Jim (@jtmck)
Jessica's yoga posts on her blog are a good read.
iPhone app reviews
0. Foursquare: Jessica has been using this app to check in to places to find friends and get deals from merchants.  Jim isn't using it because his friends aren't on it.
1. Hipstamatic: [$8 after getting all the add-on features available as in-app purchases ($2 for basic version)]
Photo app based on a rare 1980s film camera of that name [not really; see podcast #23 for correction]; allows use of different virtual lenses, films and flashes to create a range of different looks including infrared, black and white and retro colors.
2. Retro Camera Plus: [free]
Another vintage camera simulator, this app offers five different cameras, including one based on classic Polaroid instant, and another simulating an old Russian design.  You change the whole camera so it's not as flexible as Hipstamatic but it is free and fun.
3. Fruit Ninja: [$1]
An excellent app for casual fun, this game has one goal–swipe your finger across the screen and rip apart fruit!  (I heard about this one from Jim.)
4. Cut the Rope [$1]
This game involves moving a candy ball that follows inverted gravity into a hungry frog-like creature's mouth, mainly by, well, cutting ropes and also popping bubbles, all while picking up stars.  Maybe it's not totally clear from that description but anyway it's a fun game.  You can get the lite version and play some of the game for free, but for all the levels including the new Christmas one, it's worth getting the full app.  (I heard about this one from Jessica.)
5. Book (eBook reader) apps [all free for the app, with in-app book purchasing]
Which is the best for the iOS platform?  Apple's iBooks?  Or is it an third party app like Amazon's Kindle, Barnes and Noble's Nook, or Google Books?  Personally I like the Nook app but iBooks is also really good, and Google Books is okay.
Guitar picks!!!
Two kinds of pics [sic] that I just got that I love:
1. Fender thin (cloudy blue), the classic
2. Ultex 0.60 mm (yellow with rhino), with a nice snappy feel
Also I use:
3. Tortex 0.50 mm and 0.60 mm (red and orange with the turtle)
Public Affairs
1. Wikileaks cable releases continue to roil international relations; see the Guardian's coverage for more,
2. President Obama ditches press conference about tax cuts to go party; leaves Bill Clinton to speak to the press.
Technology news and rumors
1. How much does the Samsung Galaxy Tab suck (for that price anyway)?
2. Will the next iPad have both side cameras, improved screen and maybe a slight tweak in the design profile?
3. Are the iOS photo sharing apps (like Instagram and path.com) carving out an important new niche?
4. Looking forward to the upcoming new version (2.8) of the GNU Image Manipulation Program, which will finally feature a "single-window mode."
5. What will happen in tech next year?  Mac OS X app store, OS X Lion, iOS 5; Lots of solid state memory in computers (?); Flood of new Android products; Google Chrome OS; Ubuntu 11.04; LibreOffice; HTML5 and CSS3 on the web; Oracle vs. everyone over Java; Novell acquisition by Attachmate, and Microsoft's apparent role; mySQL vs. PostGRESQL; PHP vs. Python vs. Ruby on Rails vs. C; Drupal 7 vs. WordPress 3.1.
[originally posted Dec. 12, 2010]