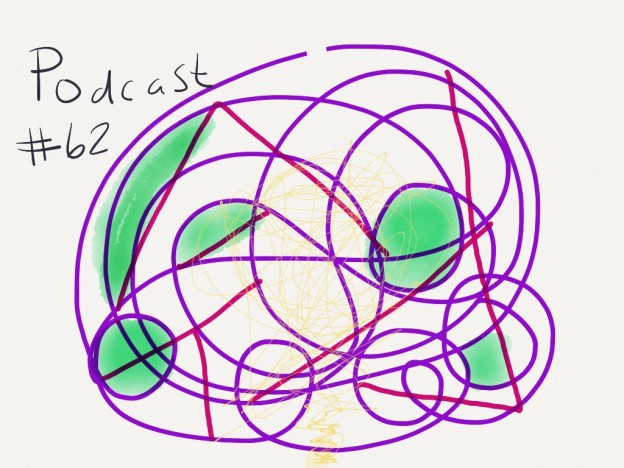 "There's plenty of people who've let it lapse." / 'There's like a clamminess, a grayness, a frizziness." / "TextEdit has gone kind of like all over the place." / "And also then there's the publishing part." / 'I'm not a fan of Apple's Maps.' / "I'm not sure how it works, but I was using it earlier."
show notes – DJMcloud podcast episode #62 – recorded Dec. 15, 2012
Jessica has purchased some new features and is making some new art with the Paper app for iPad.
I discuss writing tools (which were used in creating my novel Crossing the Continental Divide) [This episode discusses tools; the plot of the book was discussed in podcast #60.]:
composition:
Drafts (iOS) [also discussed in podcast #33]: I did a lot of the writing of the book on the iPhone with onscreen keyboard or voice recognition, on this simple creation app; when I was done I could send the text to Dropbox [or optionally also to Twitter, Facebook, Evernote, and many other services.]
Epistle (Android): Writing with my tablet was less frequent but this Dropbox-friendly editor worked.
Sublime Text (Mac): This provided a simple window to enter text on the computer; used sparingly.
editing:
BBedit (Mac): Made merging multiple text files in Dropbox directory into one manuscript easy, with word counts.
Textmate 1 & 2 (Mac): Did a little bit of editing for typos and a little bit of writing with version 1 on my iMac and 2 on my MacBook Pro.
publishing:
Pages (Mac): used Apple's desktop word processor to import BBedit text file to add cover and image and then make an ePub version.
iBooks Author (Mac): used to make PDF and iBooks/iPad version with consistent page numbers using Futura font.
Google Maps for iOS is now available. (In iOS 6, Apple replaced the previous default Maps app [which had until then relied on Google Maps] with an app that utilized the Apple's new maps.)
GTA Vice City for iOS: the 2002 classic game gets ported to iPhone & iPad (and some Android phones).
[Grand Theft Auto 3 Tenth Anniversary Edition came out last year and we discussed it then on podcast #19.]
New update to Flickr app for iOS moves in the right direction: Aviary filters, easy linking to Tumblr, Facebook and Twitter, updated interface for viewing photos of users and groups that you follow.